adapted from Levana Cooks, using Vanilla Bean Levana Nourishments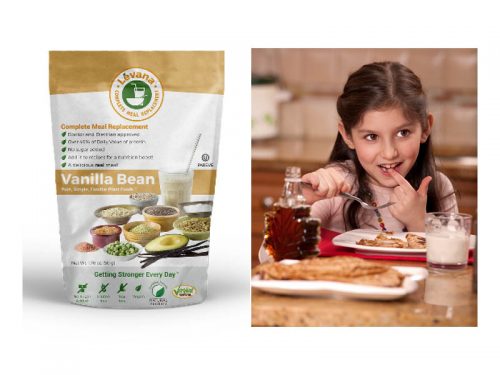 You say Pancakes, I say Crepes!
Jut one bite and you'll understand why these French crepes gems are so popular with children big and small!
How will we ever know how wonderful crêpes can be if all we've been doing so far is opening a commercial muffin mix box—and the worst part is, we haven't saved more than a minute or two on the whole thing— and missed out on a great treat, so was it worth it? Of course you know the answer, so I won't rub it in. My children grew up on crêpes—we just had to have them at least once a week. They are so much fun no one will ever know they are actually eating healthy food. There is only a small ratio principle to keep in mind for perfect, ethereal paper-thin crêpes: 4 eggs or egg substitute (see below), 2 cups flour, 2½ cups liquid. That's the whole thing. Play with this, and get different and exciting results each time. My granddaughter Musia (above) is always clamoring for them, and enjoys them egg-free.
Crêpes are a wonderful choice when you have company. (Only your kids? That's company, and of the best kind!) Make them while you are talking to your family or guests, and have a good time. You will be amazed at the great selection of flours you will find at health food stores. And the fillings are a terrific way to recycle leftover chicken or vegetables.
The crêpes mixture can be made even a couple days in advance.
Don't worry if the batter settles and starts looking somewhat unappealing—just give it a few more turns in the blender before using, and it will look and taste like new. If the mixture thickens while it sits, thin it with a little liquid.