adapted from Levana Cooks, using Cocoa Coffee Levana Nourishments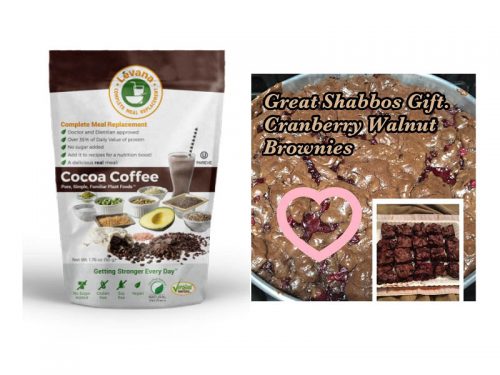 Brownie Pie with Cranberries!
Pecans, Chocolate, Cranberries: It doesn't get better!
This time I decided to dream up  a brownie-based tart. My brownies are a big crowd pleaser, with lots of wiggle room to accommodate flavor variations. So I used them as my starting point, and sneaked in a whole bag of fresh cranberries, without upsetting the delicate balance that yields such creamy brownies.
Do not change anything in my brownie pie: It's fantastic! And so simple.
I had some gluten-free guests, and it was no hardship whatsoever using rice flour.
I love cranberries too much!
I couldn't bear to be separated until next autumn, so I buy a small truckload of them, and keep them in my freezer year-round.
I love to use my 12 inch pie plate, pictured above. It makes for a dramatic and beautiful presentation. But you could use 2 9″ pie plates instead, only try your best to get pie plates with straight sides (as opposed to the sloping Pyrex pie plates). It will be much easier to serve.