adapted from Levana Cooks, using Vanilla Bean Levana Nourishments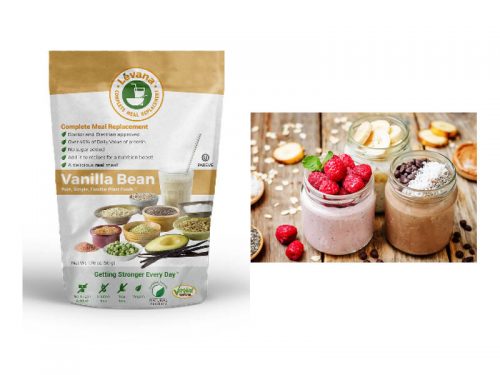 Overnight Oats are a super healthy and super quick breakfast treat.
Steel-cut oats, are my rock-star grain and are perfect in this overnight oats breakfast. There's nothing you can't do with steel-cut oats. They are naturally gluten-free too, as long as they are marked gluten-free, which will clearly indicate the steel-cut oats were processed in gluten-free machinery. Take a look at the superfoods lineup of ingredients in this overnight oats recipe!
I highly recommend Kathy Hester's Book OATrageous, where she shares over a hundred fantastic and easy oat-based recipes, both savory and sweet, even oat-based bath products!
In my overnight oats, no cooking and no mess whatsoever!
The steel-cut oats "cook" just by soaking them in a liquid. The resulting pudding is, just like Kathy Hester says, OATrageous! Want your rice pudding to be super delicious and super nutritious? Make it with steel-cut oats, and get optimal nutrition even at breakfast time, even at dessert time, as this dish is a good enough treat to serve for dessert too!
Below is the basic recipe just as I made it in my tinkering with raw steel-cut oats pudding on my first try, and I will include all variations.
The chia seeds contribute a pleasant viscosity to the final texture;
Chia seeds are a worthwhile match for the steel-cut oats on every count: cute look, flavor, texture, amazing nutritional contribution.
Although I greatly value old fashioned oats and use them extensively (as a quick soup thickener, in cookies, in bread doughs, even in meatloaf, kugel and veggie burgers), for this raw overnight pudding we only want the steel-cut oats. Old-fashioned oats, shaped as thin slices, would absorb the liquid too quickly and get mushy, and you would end up with not enough texture.
So: Steel-cut oats is the way to go for this overnight oats breakfast.