Levana Cooks
, using
Levana Nourishments
Mushroom Medley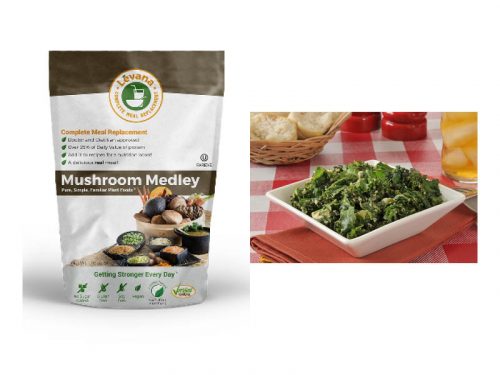 Mock Crab Kale Salad!
I love to make salads with kale, as kale leaves are hearty and sturdy and do not wilt!
You need not worry about what to do with leftovers, even if you eat them the next day: the kale will be just about as bright and crisp as when you just made it.
I am going Asian with this mock crab kale salad: so much fun, such an exciting flavor and texture lineup. And best of all: EASY!
Fresh seaweed is increasingly easy to procure. I buy it at any sushi take out counter.
I find organic Kale much more delicious and easier to eat than the conventional one: More leaf, no curls, less rib and ideally dark and nourishing. In a pinch, use pre-washed baby kale leaves.
Kale is so lucky: It gets a massage each time before it gets eaten!
Don't skip this easy and brief massaging step: the dressing penetrates the leaves and tenderizes them.

Adapted from
Ingredients
Salad 

2 bunches organic kale, ribs removed (save them for a broth), leaves sliced thin

1 1/2 pounds frozen mock crab (also called Kani), thawed, chunks or strips, flaked

2 pouches Levana Nourishments  Mushroom Medley

Corn kernels from 3 fresh ears, or 1 cup frozen and thawed (no canned corn please)

1 cup fresh seaweed (it might be labeled "Fresh Seaweed Salad")

6 scallions, sliced very thin

2/3 cup roasted peanuts, or other nuts or seeds (if you think you won't be using the whole salad on serving day, save some salad without nuts or seeds, so it will keep well)

2 avocados, diced (if you think you won't be using the whole salad on serving day, save some salad without avocado, so it will keep well)
Dressing

1/3 cup toasted sesame oil

1/4 cup rice vinegar

3 tablespoons tamari sauce or aminos (or anchovy paste: Don't recoil: It's fantastic!)

2-3 tablespoons Sriracha Sauce

2 tablespoons freshly grated ginger
Instructions
Place all but last two salad ingredients in a salad bowl.
Whisk the dressing ingredients in a small bowl, and pour over the salad. Massage the mixture throughly with your hands, using all your fingers for maximum effect.
Just before serving, stir in the avocado and nuts or seeds.