Garden Vegetable Levana Nourishments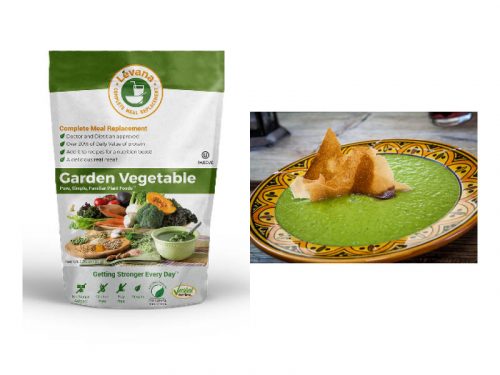 Chilled Pea Soup is a delightful summer soup:
Bright green, vibrant and deeply flavored.
We are not paying enough attention to the possibilities of Fresh-Pea Soup, or to fresh peas for that matter. Often, fresh peas are demurely located on one side of our plate and generically called a side dish. In my chilled Pea Soup, the Fresh Peas are front and center, and responsible for the vibrant color and sweet and fresh flavor of this soup. Now, my Fresh Pea Soup vindicates the humble pea. I guarantee it!
Don't get me wrong: I do love split pea soup: Take a look at my Moroccan Split Pea Soup! But my Chilled Pea Soup uses fresh peas, so you end up with a much less starchy soup. It's ideal when you are looking, as I always am, for lower carb options. Also, it is totally natural and vegetarian.
I love to use frozen peas:
They are always there for you and every bit as delicious and nutritious as fresh peas.

Sometimes fresh loose (shelled) fresh peas are available and affordable, so go for them.

Although what I originally had in mind when I developed my fresh pea soup was a chilled soup, I can see no reason not to serve it hot as well. In this case, add the yogurt in each bowl as a garnish (do not cook it).

adapted from Levana Cooks using
Ingredients
1/3 cup olive oil

1 large green zucchini, cut into large chunks

2 quarts (8 cups water)

4 cups fresh or frozen peas

1 large bunch mint, leaves only (about 1 cup packed)

2 cups plain or dairy-free yogurt

2 pouches Levana Nourishments Garden Vegetable
Instructions
Heat the oil in a heavy pot. In a food processor, coarsely grind the zucchini and add to the pot. Add all remaining ingredients except the yogurt, and bring to a boil. Reduce the temperature to medium, and cook covered about 10 minutes.
Cream the soup in a blender or food processor, or with an immersion blender. Adjust consistency and seasonings.
Chill completely, and stir in the yogurt.