This February 14th, create healthy Valentine's Day treats
Valentine's Day is known as the day of love. Whether you will be saying "I love you" to a partner, your children, or best friend this year, do it the sweet and healthy way. Welcome to the ultimate healthy Valentine's Day treats, dessert, and drinks guide. Here you will discover the most delectable and delicious (yet nutritious!) desserts that will help you to celebrate your loved ones the healthy way. XOXO
Treats and Desserts Menu
First up on the menu: Chocolate Dipped Strawberries, courtesy of Levana Nourishments. For some extra chocolatey flavor and more protein-packed nutrients, add in a Cocoa Coffee Nourishments packet. This treat is so simple to create, can we even call it a recipe?! Here's all you have to do: Microwave 1 cup of semi-sweet or bittersweet chocolate chips with 1/2 cup coconut milk for 1 minute, or a drop longer. Of course you can also melt the chips and the milk on a very low flame in a narrow bottom saucepan. Stir until smooth, just a few seconds. Let the mixture cool just a few minutes, then use long toothpicks or mini skewers to pick your fruit, and dip it, leaving the top exposed. The chocolate coating will firm up in no time. If you are not serving the berries right away, chill them until serving time.
Pile on the fruit! For a picture-perfect healthy treat, make a bowl of berries and whipped cream. In a glass bowl, add in raspberries, and top it off with a dollop of whipped crème.
Did anyone say "more chocolate"?! Try this Chocolate Truffles Recipe with a Cocoa Coffee Levana Nourishments packet. These truffles are everything you could ever imagine, and more! Luxurious, luscious, even dairy-free. If you're looking to get extra fancy this holiday, choose your own truffle flavor- pick from sea salt and caramel, peppermint, nut, raspberry, and even peanut butter. So go ahead- treat yourself by creating this healthy Valentine's Day treat.
Drinks Menu
Looking to make a warming and sweet drink? Try a decadent white hot chocolate recipe. Simply mix 1/2 teaspoon of your white hot chocolate powder with 1/2 cup of skim milk, and a garnish of cinnamon. Sit back and sip away! (Recipe from Health.com's 8 Valentine's Day Treats Under 80 Calories article.)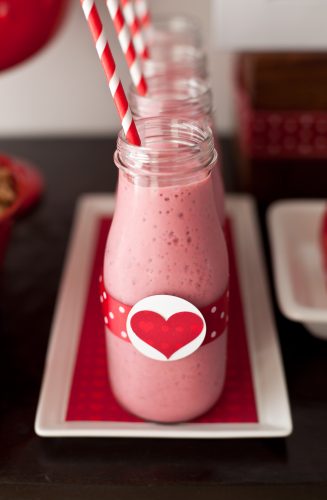 Round off the night with a yummy and refreshing smoothie, using only the freshet and purest of ingredients with a Mixed Berry Levana Nourishments. Choose the 'red' smoothie option for a color appropriate for the holiday of love. Mix all ingredients in the blender a full minute at high speed until smooth and frothy. Use 1/2 cup unsweetened cranberry or pomegranate juice, 1/2 cup yogurt or milk, and 1/2 cup frozen berries. Pour the drink into glass cups, and finish off the creation with seasonal straws for a pop of color. (Photo courtesy of ProjectNursery.com).
How's that for a healthy Valentine's day treats guide? Just a little gift from us, to you, on this day of love and appreciation.
-Talya Hyman