It's almost Purim, so increase in your happiness!
We are told that when the Jewish month of Adar begins, we should increase in our happiness. And how could we not be joyful?! The holiday of Purim is in Adar, which means that most of this month is spent devouring delicious hamentaschen. Hamentaschen are the signature Purim cookie, identifiable by their triangular shape and scrumptious middle filling. How can we bring ourselves to indulge in this Purim treat tradition, while maintaining our health? Welcome to the healthy hamentaschen recipe guide. You will find gluten-free and vegan recipe variations for all of your health-conscious needs and requirements.
Healthy hamentaschen – the Levana Nourishments way
This gluten-free recipe hamentaschen recipe was originally posted on Levana Cooks (Hamentaschen Recipe- Sweet and Savory Variations). Throw in Vanilla Bean Levana Nourishments packets for extra protein to enhance the nutritional value of this already healthy recipe. Try it out and see for yourself! Scroll down for sweet and savory flavor options.
Ingredients
4 cups flour: all-purpose, whole wheat pastry, or spelt (gluten-free: any GF flour mix you like)

1 tablespoon baking powder

½ teaspoon salt

2 packets

Vanilla Bean Levana Nourishments

4 eggs

¾ cup sugar

1 cup vegetable oil

1 tablespoon vanilla extract

¼ cup orange juice

Zest of 1 orange
Instructions- make the dough
Combine the flour, baking powder, and salt in a bowl and set aside. Beat the eggs, sugar and oil in a food processor or with an electric mixer (or even by hand) until light and fluffy. Add the vanilla, juice and zest, and the flour mixture, mixing at low speed (in a food processor, use the pulse button and pulse only until combined) or by hand until well combined. Let the dough chill in the refrigerator for 1 hour or up to one day. Preheat the oven to 350°F. Cut out a portion of dough and roll out evenly on a very lightly floured board, 1∕8 inch thin.
Cut out 3-inch circles with a scalloped cookie cutter. Place a heaping teaspoon of your favorite filling (suggestions below) in the center of each circle. Bring up the sides at 3 equidistant points, pinching firmly and leaving the centers exposed. Repeat with the rest of the dough and filling, using the scraps of the previous portion of cut-out dough with the next piece of dough you cut out, taking care to flour the board very lightly so the dough will not get too heavy.
Place the cookies on a cookie sheet lined with parchment paper, 1 inch apart. Bake about 20 minutes, or until lightly golden. Store in tins, do not refrigerate. Makes 3 dozen.
Fillings
Choice of:
Prune butter (lekvar), poppy seed (mohn) filling, apricot, or strawberry preserves; try your best for all-fruit, available at health foods stores.

Make the following mixture: ½ cup brown sugar or Sucanat, 1 cup raisins, ½ cup walnuts, 1 tablespoon cinnamon; pulse in a food processor just long enough to get a fine but not mushy grind.

Savory Hamentaschen: The day you get really adventurous, skip the sugar in the dough, replace the OJ with soy or rice milk, add salt, pepper, herbs and spices of your choice directly in your dough, and make savory fillings, using the exact same recipe and directions: Fill it with cheese, or meat, or minced vegetables, or anything you would fill, say, a boreka with, only making the filling nice and colorful so you have a pretty dot peaking out of the opening.
Peanut butter and chocolate?! Yes, please!
The following healthy hamentaschen recipes and photos are courtesy of @ThisJewishMama on Instagram. Check out her page for more fun and delicious festive recipes.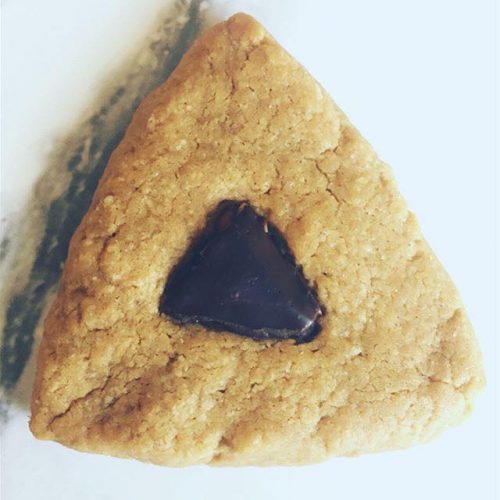 First up is her Gluten-Free Peanut Butter Chocolate Hamentaschen recipe. Talk about a divine combination!
Ingredients
– 1 cup natural peanut butter
– 1 cup sugar
– 1 egg
– 1 teaspoon vanilla extract
– Pinch of salt
– Chocolate
Instructions
1. Mix the peanut butter, sugar, egg, vanilla, and salt until combined
2. Roll into 10 evenly sized balls and flatten them to about 1/2 inch thickness and shape into triangles.
3. Gently press down a small triangular piece of chocolate into the middle of each cookie
4. Bake on a lined cookie sheet for 8-10 minutes at 375F
5. Allow to fully cool before eating 🙂
The next recipe is @ThisJewishMama's deliciously decadent Raw Vegan Chocolate Hamentaschen.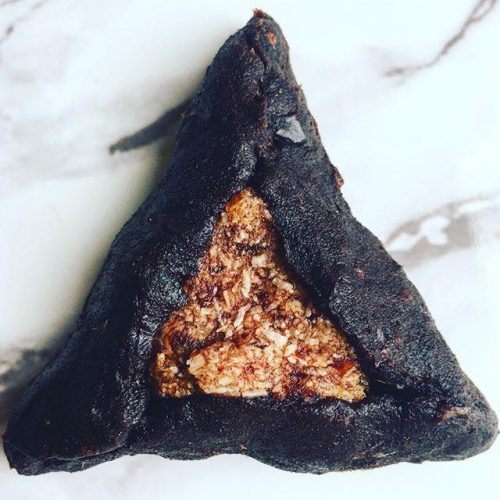 Ingredients
– 1 cup pitted medjoul dates (condensed) + 3 dates
– 1/4 – 1/3 cup cocoa powder
– 2 tablespoons finely shredded coconut
Instructions
In one bowl combine the cup of pitted dates with a 1/4 cup of cocoa powder. Mix with your hands, incorporating the cocoa into the dates as you mash. This should be very easy if you use soft room temperature medjoul dates. Add a little extra cocoa if the dough is too sticky.
Then in a separate bowl do the same process with 3 dates and 2 tablespoons of finely shredded coconut.
Now, divide your chocolate date mixture into 8 balls and then flatten them into disks. (If the dough still feels too sticky pop it into the fridge for about 30 minutes). Divide the coconut mixture into 8 balls and place in the middle of the 8 disks. Pinch 3 corners of the disk to form a triangle surrounding the filling. Super yum. Enjoy!
Healthy hamentachen recipes will increase your joy
Remember: you can still enjoy the fun and festive holiday of Purim the guilt-free way by creating nutritious and healthy hamentachen. Now that is definitely something to smile about during this joyful time of year.
-Talya Hyman