"Let nothing that can be cured with food be cured by any other means."
– Maimonides
What is Levana™ Meal Replacement?
It is a curated blend of dehydrated and ground pure whole foods that form a complete meal, for people with special dietary needs and for people with limited time to prepare their meals from scratch. We offer both "sweet" and savory options that can be mixed with liquid, or added to your favorite recipes. ALL our ingredients are pictured above!
This product is not intended to diagnose, treat, cure, or prevent any disease.
Please consult with your doctor or registered dietitian for all your nutritional needs.
Who Can Enjoy Levana™ Meal Replacement?
When you can't eat a "regular" meal, Levana™ Meal Replacement is sensible and delicious. While it was originally created as an all-natural and complete nutrition solution for those struggling with a health crisis, our products are being appreciated by a wide range of people who want to eat smart and easy.
#EatWellWhileYouGetWell

WELL-BALANCED
NUTRITION
Excellent source of protein and fiber to help keep you feeling energized

PLANT-BASED
All-natural plant foods, like sunflower seeds, flax seeds, and mushrooms

DELICIOUS
Developed by a professional chef in a kitchen, not a lab. Levana™ Meal Replacement has a smooth texture and is delicious!

NUTRITIOUS
Neutral mouth-feel, and helps with regularity

FREE OF COMMON
ALLERGENS
Gluten-Free
Dairy-Free
Nut-Free
Soy-Free
Kosher
Non-GMO
Certified Natural
No Added Sugar

EASY TO USE
Single-Serve Packets
"Let nothing that can be cured with food be cured by any other means."
– Maimonides
Cookbook author, popular blogger, renowned restauranteur and food pioneer Levana Kirschenbaum created this unique, all-natural and complete meal replacement to help her husband stay nourished while battling cancer.
Her goal: create a healthy, all-natural alternative to lab-manufactured meal replacement products–primarily made of corn syrup and chemicals – given to people facing a health crisis. Levana™ Meal Replacement comes in five flavors: 3 cold blends and 2 soups. They are all packed with natural nutrients. REAL FOOD. REAL NUTRITION.
Made from pure, simple and familiar foods derived from plants, it has a smooth texture, tastes great, is easy to digest and may help with regularity. One pouch is a completely balanced meal. Enjoy!
Levana™ Meal Replacement VS. Leading Brands
Levana™ Meal Replacement has nutrient-dense, real food ingredients for maximum nutrient absorption and better health.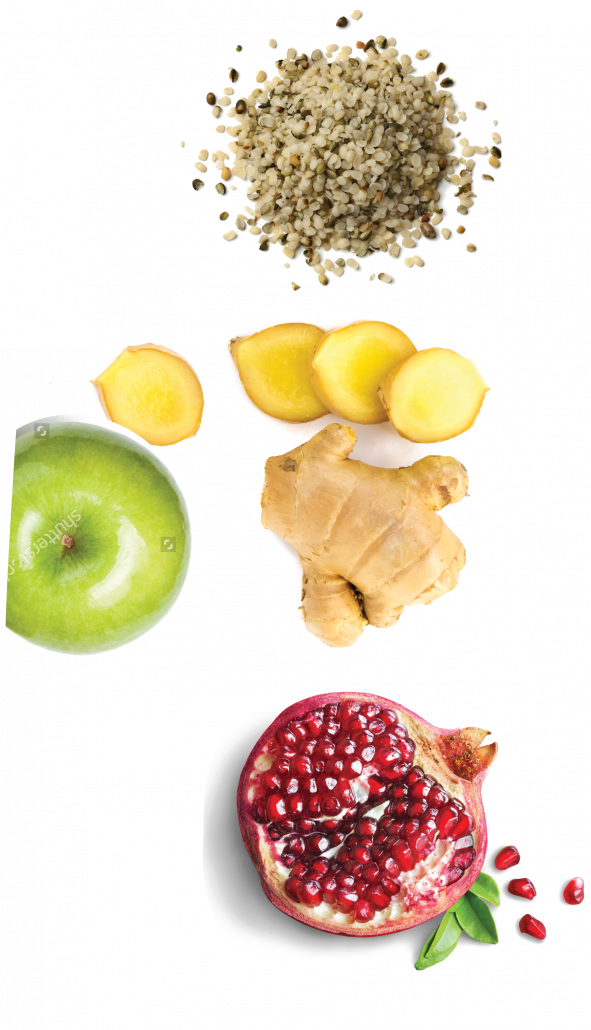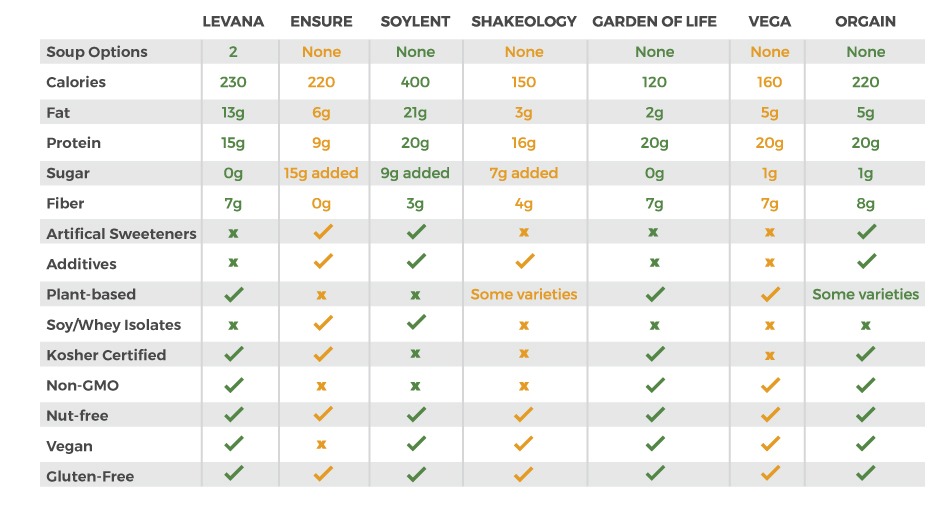 Calories & Protein for Each Flavor

Nutritional add-ins
• 1 CUP BERRIES: 85 cal, 0g fat, 0mg cholesterol, 0mg sodium, 115mg potassium, 21g carb, 4g dietary fiber, 15g sugars, 1g protein

• 1/2 BANANA: 55 cal, 0g fat, 0mg cholesterol, 0mg sodium, 210mg potassium, 14g carb, 2g dietary fiber, 7g sugars, 1g protein

• 2 TBSP ALMOND BUTTER: 200 cal, 19g fat, 0mg cholesterol, 0mg sodium, 240mg potassium, 7g carb, 1g dietary fiber, 1g sugars, 5g protein

• 1/2 CUP MANGO: 55 cal, 1g fat, 0mg chlesterol, 0mg sodium, 130mg potassium, 14g carb, 2g dietary fiber, 12g sugars, 1g protein

• 1 APPLE (MEDIUM): 80 cal, 0g fat, 0mg cholesterol, 0mg sodium, 145mg potassium, 21g carb, 2g dietary fiber, 16g sugarss, 0g protein

• 1 PEAR (MEDIUM): 100 cal, 0g fat, 0mg cholesterol, 0mg sodium, 198mg potassium, 28g carb, 6g dietary fiber, 17g sugars, 1g protein

Nutritional add-ins
• 1 TABLESPOOON OLIVE OIL: 120 cal, 14g fat, 0mg cholesterol, 0mg sodium, 0mg potassium, 0mg carb, 0g dietary fiber, 0g sugars, 0g protein

• 1/2 CUP COOKED QUINOA: 110 cal, 2g fat, 0mg cholesterol, 6mg sodium, 160mg potassium, 20g carb, 3g dietary fiber, 0g sugars, 4g protein

• 1/2 CUP WHOLE WHEAT COUSCOUS: 105 cal, 1g fat, 0mg cholesterol, 0mg sodium, 0mg potassium, 23g carb, 3g dietary fiber, 1g sugars, 4g protein

• 1/2 CUP LENTILS: 115 cal, 0g fat, 0mg cholesterol, 0mg sodium, 365mg potassium, 20g carb, 8g dietary fiber, 2g sugars, 9g protein

• 1/2 CUP CANNED BEANS: 140 cal, 1g fat, 0mg cholesterol, 550mg sodium, 370mg potassium, 30g carb, 5g dietary fiber, 12g sugars, 6g protein

• 1/2 POTATO: 140 cal, 0g fat, 0mg cholesterol, 10mg sodium,  800mg potassium, 32g carb, 3g dietary fiber, 2g sugars, 3g protein